MATTHIAS LUPRI ELECTRIC BAND
"This band is dynamic!! Pure, unadulterated adrenalin with a jazz persona..."
Metronome Magazine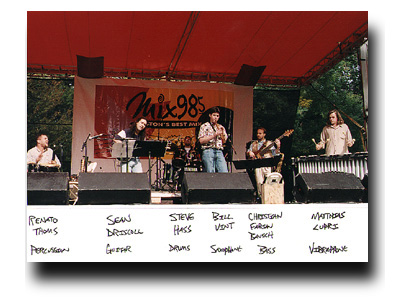 Matthias Lupri Electric Band is an electric modern styled jazz-fusion outfit. The group will take you on a journey through catchy tunes made-up on interesting grooves, harmonic jazz colors and improvised soloing. First conceived when all the Electric Band members were students at the Berklee College of Music, Matthias Lupri Electric Band is still going strong today. With the added dimension of the electric midi vibraphone, this group should not be missed.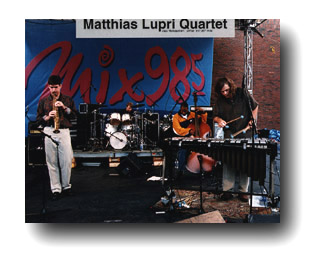 Matthias Lupri's Quartet at a Boston Music Festival in City Hall Plaza this past fall
playing music from the debut CD "Window Up Window Down."



It's been another busy season for the group, with a coast to coast tour of the Canadian Jazz Festivals and US dates this past summer, with saxophonists Mark Turner and Rick Margitza. Nate Radley (g), Thomson Kneeland (b) and Barry Romberg (dr) rounded out the group on tour. Music was primarily from the new CD Same Time Twice plus some tunes from the previous CD's.

New tunes are in the works for another project and fall CD release dates with Greg Osby, Mark Turner, Kurt Rosenwinkel, Reuben Rogers, Jeff Ballard and Greg Hutchinson are lined up. Come on out to the shows and say hello.

BOOKING INFO:




BOOKING INFO:

Kavon Mgmt/Kay Vaughn
Box 161, 295 East Swedesford Rd.
Wayne, PA
610 935-0108 tel
610 935-7802 fax
kavonarts@yahoo.com
This jazz site is part of